THE ONE 17 / GSTAAD – SAANEN
Along on a background of snow-covered peaks, in the middle of an unspoilt nature worthy of a postcard landscape, that our new program «The One 17» stands.
VALUES OF ECO LIVING IN « THE ONE 17» GSTAAD – SAANEN
ENJOY THE PRIVILEGE OF LIVING IN THIS UNIQUE ENVIRONMENT IN GSTAAD – SAANEN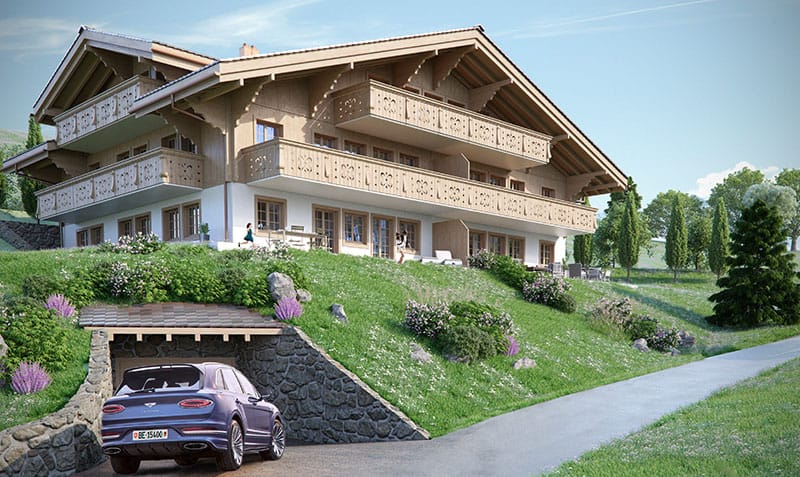 In the heart of the magnificent Saanenland region, in the canton of Bern, Saanen is a sumptuous and hearty village located on the edge of the popular and world-famous mountain resort of Gstaad…
Gstaad is the region's attraction for a unique combination of tradition, comfort, and style. In the pedestrian village center, restaurants, stores, hotels, and bars live offer a unique and harmonious experience.
The mix of alpine authenticity, quietness and discreet luxury has made it one of Switzerland's most famous destinations. However, despite its fame, the place has remained authentic. Gstaad's pedestrian promenade, the commercial heart of the town, is full of boutiques and galleries, delicatessens and a mix of exceptional goods and regional products
Perched at an altitude of 1010 meters, at the crossroads of the villages of Rougemont and Schönried, Saanen cultivates its traditions as well as its alpine authenticity by offering its inhabitants a unique living environment with all the desired conveniences nearby.
Ideally located, overlooking a small, peaceful, and sunny residential area just a stone's throw from the center of Gstaad, this project of 2 exceptional chalets is built on a vast and magnificent plot of land bordered by an agricultural zone.
Each chalet includes a total of 5 luxurious apartments and is composed of 3 levels above ground and 2 basement levels.
The residence is mainly exposed to the South and West.