Safa One
WHERE THE LINE BETWEEN THE OPULENCE OF NATURE AND THE ELEGANCE OF HOME IS BLURRED, AND LIFE IS LIVED AMID THE EMERALD BRILLIANCE OF SHADE-CASTING TREES, TROPICAL PLANTS IN BLOOM, AND THE BEDAZZLEMENT OF THE WORLD'S RAREST JEWELS.
Safa ONE
IT TAKES ITS INSPIRATION FROM THE ABUNDANCE OF EMERALDS AND DIAMONDS ONLY TO BE FOUND IN THE MASTER-JEWELER'S MOST CELEBRATED PIECES. THE MAGNIFICENCE OF GEMSTONES IS REFLECTED THROUGHOUT THE BUILDING, WHERE EXQUISITE GREENS AND SPARKLING FACADES SURROUND YOU WITH FLAWLESS SPLENDOR.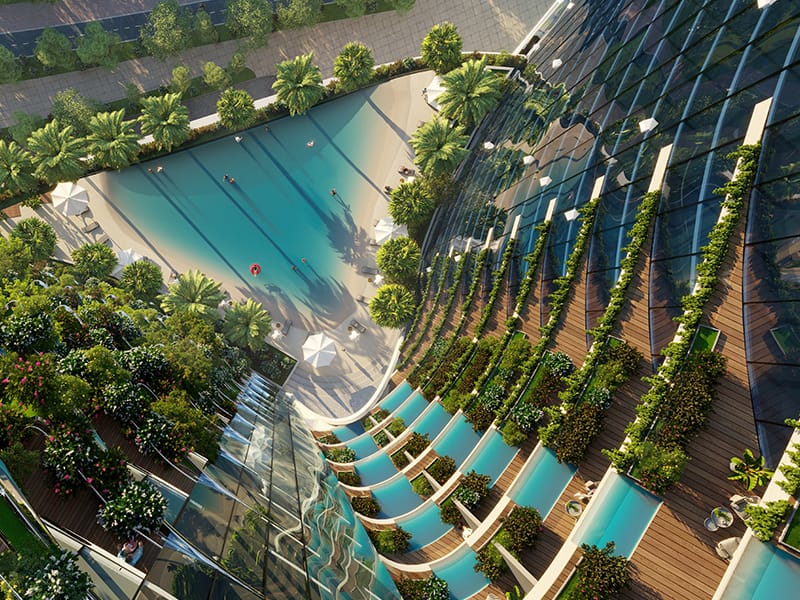 upon signing specialpower of attorney
Safa One is the latest project by DAMAC Properties at Safa Park, Dubai. The development features two high rise towers offering premium luxury in the arms of nature. Safa One by DAMAC Properties is exclusively branded by De Grisogono of Switzerland and its design draws inspiration from the gems and jewels found in the master-jeweler's most celebrated pieces.
Safa One is a unique development reflecting the nature of luxury. Here, the artistic refinement of diamonds and emeralds reflect throughout the building, while the serenity of exquisite greens and natural elements surround you with flawless splendour.
Two towers of Safa One are connected to each other by hanging gardens presenting the best of natural experiences. The podium features exotic trees and flowers, while the enchanted gardens ascend the building creating a unique green necklace further embellishing the exteriors.