ONE AT PALM JUMEIRAH
ONE AT PALM JUMEIRAH IS ONE OF THE MOST EXCLUSIVE RESIDENTIAL PROJECTS IN DUBAI, LOCATED IN PALM JUMEIRAH'S PREMIER PLOT AND MANAGED BY DORCHESTER COLLECTION.
ONE AT PALM JUMEIRAH
ENJOY THE LUXURIOUS COMFORT PROVIDED BY THE ONE AT PALM JUMEIRAH WITH ITS WORLD CLASS SERVICES.
Introducing one of the most exclusive residential projects in Dubai, this limited series of 94 exclusive homes is as much a one-of-a-kind as its address. This is a completely reimagined approach to refinement and exclusivity, occupying the most fascinating location and crafted for the world's most discerning guests.
One at Palm Jumeirah hold three and four bedroom residences ranging in sizes from 4,816 sq. ft to 7,169 sq. ft. with open floor plans designed to suit your tastes, offering total privacy, state-of-the-art amenities, and complimented by Dorchester Collection services and staff.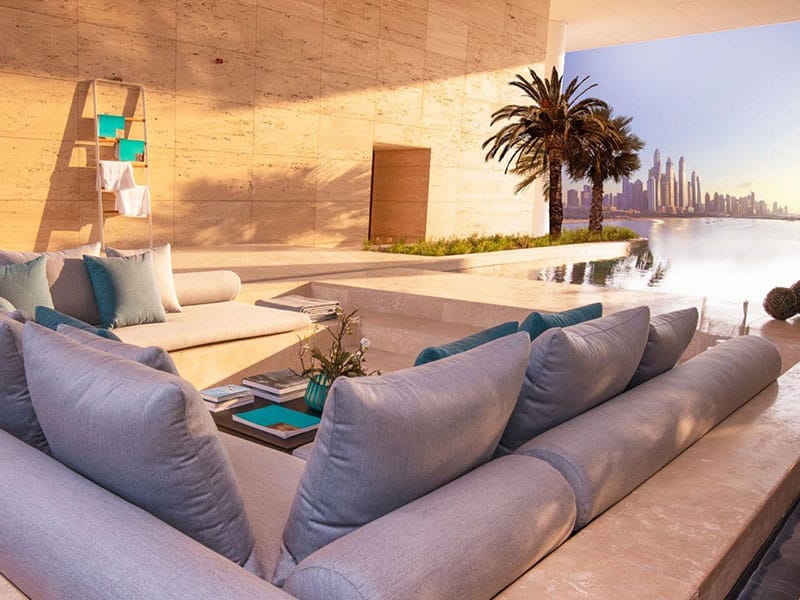 With Dorchester Collection at the helm, One at Palm Jumeirah offers its esteemed residents the total convenience of the superb à la carte services, making everyday living absolutely effortless.
You have at your disposal a range of services, from classics such as maintenance, doorman and valet parking, to premium services that include housekeeping, in-residence catering, unique events. The exclusive concierge is here to assist with an expert tailored selection of dining choices, events, venues, tickets, and everything else you need for a dynamic social and cultural life in the city.
Dorchester Collection is well known for its specialty concierge with unsurpassed knowledge and contacts, and all of the Dubai residential properties each have their own concierge teams as part of the services package.
Double Height Living Area
Unit type
Double Height Living Area
60 days after signing spa
120 days after signing spa
One at Palm Jumeirah is one of the most exclusive residential projects in Dubai, located in Palm Jumeirah's premier plot and managed by Dorchester Collection.
Palm Jumeirah is unquestionably Dubai's most spectacular location and a world icon. A marvel of modern engineering, the island boasts pristine beaches surrounded by the crystal blue waters of the Arabian Gulf – a prime destination for those who can appreciate an ultra-exclusive lifestyle. Now featuring a remarkable collection of stunning residences at its most prime position.